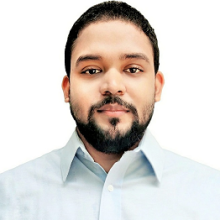 Dr. Kumar Abhishek
Department/School/Unit Name
Department of Architecture, Planning and Design
Email: abhishek.apd@iitbhu.ac.in
Area of Interest: Sustainable Planning & Development, Urban & Rural Planning, Industrial Ecology, Public Policy, Social Sustainability, Governance & Legislation, Environmental Studies.
Dr Kumar Abhishek is an academic & research professional with a strong background in urban and rural planning, architecture, and sustainability. He is currently working as an Assistant Professor at the Department of Architecture, Planning & Design, IIT (BHU) Varanasi. 
He holds a Ph.D. in Urban Planning and went to prestigious institutions like IIT Roorkee and BIT Mesra to study Urban & Rural Planning and Architecture. A sustainability and industrial ecology enthusiast with a diverse range of interests spanning planning, development, social sustainability, urban health, governance & legislation, and environmental studies.
Interested and motivated students are welcome to connect via email i.e., abhishek.apd@iitbhu.ac.in for Ph.D. Research/Post-Doctoral Studies/Internships in the relevant research area with their Curriculum Vitae/Statement of Purpose.

Doctor of Philosophy [July 2015 - May 2020]    



Indian Institute of Technology, Roorkee, India

 

 


Department of Architecture & Planning
---

 Masters in Urban & Rural Planning [2013 - 2015]



Indian Institute of Technology, Roorkee, India




Department of Architecture & Planning
---

 Bachelor of Architecture [2008 - 2013]



Birla Institute of Technology, Mesra, India




Architecture & Planning Department



Indian Institute of Technology [Banaras Hindu University] Varanasi




Assistant Professor [Architecture, Planning & Design]


[January 2023 - till date]



Indian Institute of Technology [Banaras Hindu University] Varanasi




Assistant Professor - full-time on contract [Architecture, Planning & Design]




[July 2021 - January 2023]
Indian Institute of Technology, Roorkee
Senior Research Fellow [Doctoral Researcher]
[2017 - 2020]
Indian Institute of Technology, Roorkee
Junior Research Fellow [Doctoral Researcher]
[2015 - 2017]



C.S.I.R - Central Building Research Institute, Roorkee


Postgraduate Intern 


[May 2014 - July 2014]
Indian Institute of Technology, Roorkee
Postgraduate Researcher & Teaching Assistant 
[2013 - 2015]
SJ Associates, New Delhi
Undergraduate Intern 
[December 2012 - June 2013]



Council of Architecture [COA], India


Registered Architect [CA/2014/64686]
[2014- till date]



Institute of Town Planners, India [ITPI]


Associate Member [2018-091]


[2018- till date]





International Society for Industrial Ecology [ISIE], USA


Member 


[2020- till date]
Please go to the provided links for publication details-
Research Gate- https://www.researchgate.net/profile/Kumar-Abhishek-22/publications
ORCID-  0000-0001-9351-194X -  https://orcid.org/0000-0001-9351-194X
Google Scholar - https://scholar.google.com/citations?hl=en&view_op=list_works&gmla=AJ1KiT0gNK2gSo5Wg3DPszL8_feajl1DDGEOt3RlrS0ma88L0-ZIlbqcMuQQVycOMSb_hi5A43E1ODZ-5mfpmw&user=xuBaLIEAAAAJ

Smart India Hackathon 2022 [SIH]
Ministry of Education's Innovation Cell, Government of India
Invited Juror [Software Edition] August 2022
National Institute of Technology [NIT] Calicut
Invited Speaker [World Cities Day- Webinar] October 2021
Institute of Architecture & Planning, Nirma University, Gujarat
Invited Speaker [Industrial Ecology in Urban Planning] September 2020
Ministry of Human Resource Development [MHRD], Government of India 
Ph.D. Research Fellowship Award [IIT Roorkee] 2015
Ministry of Human Resource Development [MHRD], Government of India 
Postgraduate Research Fellowship Award [IIT Roorkee] 2013



Nodal Member, Institute Annual Report Committee




IIT[BHU] Varanasi




[2022-23]





Member, Institute Annual Convocation Committee




IIT[BHU] Varanasi




[2022] 





Convener, Department Examination Committee 




DAPD, IIT[BHU] Varanasi 




[April 2023 – till date]





Member, Department Purchase Committee 




DAPD, IIT[BHU] Varanasi




[April 2023- till date]





Member, Department Consultancy Allocation Committee 




DAPD, IIT[BHU] Varanasi




[April 2023- till date]





Member, Department Examination Committee




DAPD, IIT[BHU] Varanasi 


[April 2022 – March 2023]





Member, PhD Admission Committee




DAPD, IIT[BHU] Varanasi 




[2023]





Member, Department Conference Committee




DAPD, IIT[BHU] Varanasi 




[April 2022 – March 2023]





Member, Web Portal & Online Media Committee




DAPD, IIT[BHU] Varanasi 




[April 2022 – March 2023]
Courses taught at IIT [BHU] Varanasi
AR 109-Introduction to Environmental Studies

AR 105- Architectural Graphics I

AR 209- Principles of Architecture

AR 201- Architectural Design Studio

AR 306- Society, Culture & Built Environment

AR 301- Architectural Design Studio

AR 316- Art in Architecture

AR 408- Urban Planning